Ange is a graduate of the University of Auckland. While she was completing her Bachelor of Laws (LLB), she served as president of Te Rakau Ture, the University of Auckland's Maori Law Students Association.
During the last year of her law degree, Ange was employed by the Ministry of Justice as a Family Court Registrar at Auckland District Court. This has given her valuable first-hand experience as to the workings of the Family Court. Prior to that she had a background in account management.
Ange has been working for Madeleine Flannagan at Hibiscus Coast Legal Chambers offering Family Law services since 2016. In addition to Family Law, Ange also has a passion for Restorative Justice and Youth Law.
Ange is a mother of four, grandmother of two and is of Ngapuhi/Samoan descent with strong family connections to Northland. Outside of law, she enjoys spending time with her family, walking her dogs, reading great novels and playing darts.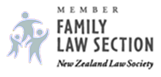 Ange is a member of the New Zealand Bar Association, the Family Law Section of the New Zealand Law Society, and the Family Courts Association of New Zealand. She is a Supervised Provider of Family and Criminal Legal Aid for the Ministry of Justice.